Configure your Cloud Server and pay only for the resources you need
Configure your Cloud Server and pay only for the resources you need
Memory-Optimized Cloud Server
High Memory instances is perfect for running memory-intensive applications with high-performance querying and deliver fast performance for workloads that process large data sets in memory, like relational (MySQL) and NoSQL (MongoDB, Cassandra) databases, Memcached and Redis, SAP HANA.
Cloud Server Coupons with 50% OFF: CLOUDVPS
SSH Secure
Authentications
Direct China
with CN2 Route
Ready in Minutes
Seamless Upgrades
Distributed Mass Storage
Tailored
Firewall Security
SSH Secure
Authentications
Direct China
with CN2 Route
Ready
in Minutes
Seamless
Upgrades
| | |
| --- | --- |
| | Distributed Mass Storage |
Tailored
Firewall Security
| | CPU | RAM | Storage | Transfer | Price |
| --- | --- | --- | --- | --- | --- |
Instant Deployment
Deploy and manage your OpenStack instances on our intuitive Cloud Server dashboard

Customized Packages
No matter compute, memory or storage-bound applications, these Cloud Server provide different options for combining CPU, RAM, and SSD resources to fit your needs

Reduntant Network
Cloud Server instances offer flexible network configurations to support the low-latency needs of mainland China, international

Deployment in 10 min
Easy registration process during ordering. Pay what you want and renew your affordable server with automated billing system
Scale with Open, Flexible Technology
Spin up a new instance with your preferred operating system or pre-installed application in just minutes.
Scale with Open, Flexible Technology
Spin up a new instance with your preferred operating system or pre-installed application in just minutes.
















Low-latency BGP Network
Easily scale a low latency network solution to Mainland China and International Regions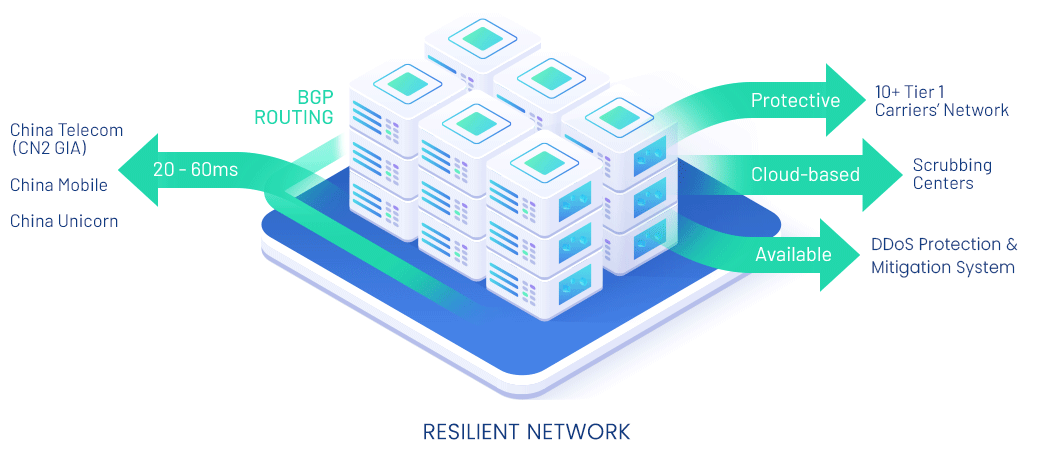 Developers Trust
Accelerate innvoation with simple, affordable, and accessible Cloud
Server solutions and services. See why developers around the world trust Varidata
Easy User Journey
Self-service ordering system automatically completes deployment, no need to wait for permission and payment confirmation process
High-available
Utilizing a redundant architecture and intelligent BGP routing, the Varidata core network intelligently routes around disruptive network activity in an effort to provide high performance connectivity.
Scaling
Scale up the Cloud Server without downtime to accommodate your agile business needs
Dashboard managing
Managed and monitor your cloud server resources and performance with with few clicks on customer portal
Add-On
A wide range options offer more possibility to your business during cloud journey
Powerful Add-on
Configure your scalable Cloud Server to be more flexible
Tier3+ Data Center

Cloud Server servers are located at Tier 3+ data center in Hong Kong, ensuring a secure and stable environment.
Best-in-class Hardware
The lates generation Dell server designed to provide isolated regional VPCs for your applications.
Ready to Use
With straightforward and affordable pricing, you will pre-configure operating systems and scale up that are all ready to use.
Distributed Mass Storage
The data is distributed across multiple servers and has intrinsic redundancy by storing the data multiple times (data replication). By ensuring that copies of the data are stored on different hardware components, no data is lost in case a hardware component fails.
Incredibly Secure
Thanks to our distributed storage architecture, no single server contains enough contiguous data to be useful to a thief. And even in those cases, the data slices are well protected by strong encryption.
Client Management
Varidata's Easy-to-use interface allows you to deploy and deply servers with self-management, like hard reboot, rebuild system, security setting……